Louis´ Palace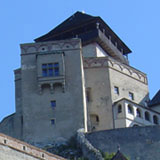 Upon the castle´s acropolis, there are three palaces. The oldest one of them is Ľudovít´s (Lewis´s) Palace, built in the second half of the 14th century by the king Lewis the Great (now situated right next to the Matúš´s Tower).
On the first floor of the palace, there is placed a permanent exposition of cold weapons and firearms from the 13th to 19th century. We can find here Gothic swords, rapiers, sabres, as well as halberds, javelins and spears. The attention of visitors is mostly allured by Oriental weapons, as yataghans, helmets and parts of armament, which are decorated by the quotations from Koran. There can also be seen boastful guns and pistols of Balkan type. As for firearms, visitors´ attention can be captivated by the Prussian needle guns, Austrian weapons, rifles and revolvers. A separate collection is devoted to hunt weapons.
In the groundfloor rooms of the palace, there is installed a part of exposition of Illeshazy family gallery, opened by the Museum on May of 2006. The exposition has enriched this unique collection in another pictures with Biblical themes, the topics of Greek mythology, the portraits of royal Habsburg family, as well as the portraits of unknown noblemen. A curiosity of the collection are two evangelic pictures.